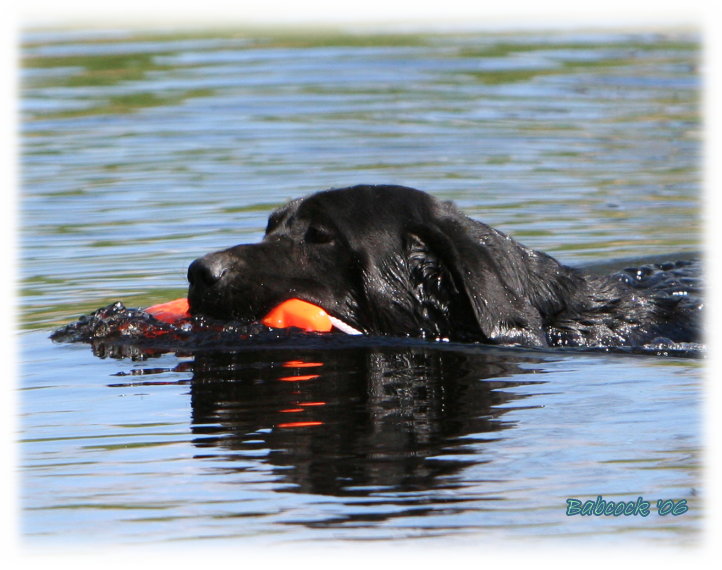 My heart is crying. RIP to my handsome Gideon. Swimming free at the Rainbow Bridge.
Can CH U-CH Fireside's I Kid You Not RN
12/26/01 - 10/23/13

Fireside's Labrador Retrievers look like a Labrador should look, are easy to live with, and can do an honest day's work in the field.
Fireside Labradors are English style Labs, known for their great temperaments, broad head and solid build. These are great family dogs that would rather hang out with you than anything else. If you want to hunt, they love to hunt, and have the drive to get the job done. If you'd rather hang out and watch TV, just share the popcorn and they'd sure appreciate a little room on the couch. If you want to throw a tennis ball, they'll bring it back all day until you call it quits.
The great thing about the English Labradors is their easy going and agreeable nature, and their versatility. My dogs have excelled in the show ring, obedience trials and hunting. They are service dogs making life a little easier for their partner with a disability. They are loving gentle pets. They get along great with kids, cats, other dogs. They also get along great with burglars, so don't get a Labrador if you want a guard dog.

Located in Wisconsin:
| | |
| --- | --- |
| | 2 hours from Minneapolis - St Paul |
| | 1 hour from Eau Claire |
| | 1 hour from La Crosse |
| | 1 hour from Rochester MN |
| | 3 hours from Madison WI |
| | 4 hours from Milwaukee |
| | 5 hours from Chicago |